ROWENTA FLOWER LOVE
FLOWER LOVE
LONG-LASTING SMOOTH AND SILKY SKIN
Flower Love is the answer for silky smooth skin on both the face and body. 24 specially engineered tweezers provide effective epilation, removing even the shortest hair from the root. In perfect complement, the special precision accessory provides soft, ultra-fast depilation of the face, ideal for between the eyebrows and above the upper lip.
Référence : EP2810F0
Voir la description du produit
ULTRA-SMOOTH EPILATION ON THE FACE & BODY
The Flower Love epilator combines fast hair removal with ultra precision in a stylish flower package.
Featuring 24 specially engineered tweezers, even the shortest hair is removed from the root. At the same time, precision attachments effectively target hair between the eyebrows and above the upper lip, for silky smooth results.
Its two speed settings adapt perfectly to the contours of the body and face, while massage beads reduce skin sensitivity. Rounding it all off is a removable, washable head for advanced hygiene and easy cleaning.
Voir la description du produit
Technical specifications / comparison
›
PERFORMANCE
Speed settings
2

Head technology
Classical

COMFORT OF USE
Dermatologically tested tweezers


ATTACHMENTS / ACCESSORIES
Attachments
1

Precision attachment


Additional included accessories
brush

CONVENIENCE
Areas
Legs, Body and Face 

Removable head


Washable head


TECHNICAL SPECIFICATIONS
Power source
Mains

Voltage
220-240 V

Power
4.8 W

Power cord length
2 m

Colours
Corail

Voir les questions les plus fréquentes
FAQ
The armpit is a delicate area to remove hair from, because its skin is thin and sensitive (it is common to see red spots in the area after hair removal) and not very accessible to the epilator head. Although it might be easy to guide the epilator on the leg surface, on the armpit it is much more difficult because this is a concave spot and it is sometimes necessary to press the epilator head against the skin for it to be effective.
In the figures below, we show the appropriate movements to achieve armpit hair removal without any inconvenience.
Please remember that the "sensitive areas" accessory which clips on to the epilator head should be used when removing hair from the armpits.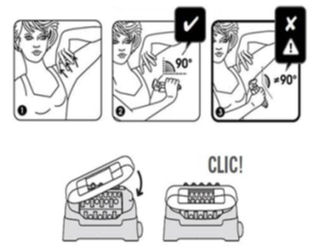 No. The appliance may not be used on the face.
After following the instructions in the user manual for starting the appliance, make sure that your electrical socket is working by plugging another appliance. If it still does not work, do not try to dismantle or repair the appliance yourself, instead, take it to an approved repair centre
Do not use your appliance. To avoid any danger, have it replaced by an approved repair centre.