ROWENTA IXEO QR1020
IXEO QR1020
Garment care in a minute with the first all-in-one ironing & steaming solution
The Rowenta IXEO is an outstanding All-in-One iron and steamer solution for total garment care with ultimate convenience and ease, to look your absolute best in no time. The built-in three-position Smart Board offers an all-new garment care experience with ergonomic upright design, high-efficiency steaming and lightweight ironing. Without the need of an ironing board IXEO is the perfect solution for smooth and wrinkle-free looks every day.
Référence : QR1020D1
Voir la description du produit
IXEO ALL IN ONE IRON & STEAMER SOLUTION
Offering a revolutionary experience with the outstanding all-in-one garment care solution
Discover the Rowenta IXEO iron & steamer solution, to satisfy all your garment care needs with one convenient device. High-efficiency steaming and lightweight ironing come together with a built-in three-position Smart Board that offers comfortable upright and inclined ironing with enhanced ergonomics. High-efficiency wrinkle removal is achieved through 1600W of power and Turbo Steam Technology that offers a high-power 5-bar pump pressure. Thanks to a rapid 45-second heat-up time perfect for last-minute touch-ups and the Smart Protect system, meaning a smart product with a temperature adapted to all garments with no need of settings: garment care in a flash! The easy iron head boasts a feather-light user experience, with a lightweight design at half the weight of a traditional steam iron. Enhanced features round off the perfect IXEO all-in-one iron & steamer package—all without the need of an ironing board.
Voir la description du produit
Technical specifications / comparison
›
STEAM & POWER PERFORMANCE
Power
1600

Steam head
Stainless Steel soleplate

Heat-up time
45 s

Sanitize


COMFORT IN USE
Adjustable pole
Double

Clips


Steam control on handle


Hanger hook


Water tank capacity
1 L

Auto-Off
Yes

On/Off switch
Hand operated

Water tank
Removable

Autonomy
40 min

Steam ready indicator


Power cord storage
Hook

Detachable base


Wheels


OPTIONS
Anti scale function
Cartridge

Steam on demand


Heated soleplate


Usage
Vertical & Horizontal

DURABILITY
Scale alert


ACCESSORIES
Accessories
Fabric Brush

OTHER FEATURES
Colours
Black / Metal copper

Bar pump pressure
5 bar

Voir les questions les plus fréquentes
FAQ
To use the Smart Board, place your hands on each side of the board, lift it vertically and incline it according to your preference: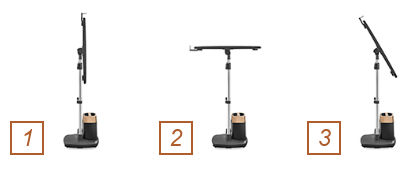 The IXEO tank is removable, for maximum comfort of use.
With a one-litre volume, it allows you to do short or long sessions.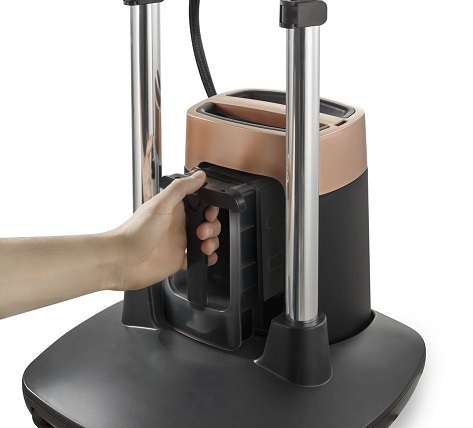 With its clean design, IXEO can easily blend into your home.
Equipped with small wheels underneath its base, you can easily move it effortlessly.
However, if you wish to store the product, it can be lowered to a height of 105cm.
More compact, it can then easily be stored in a dressing room or closet.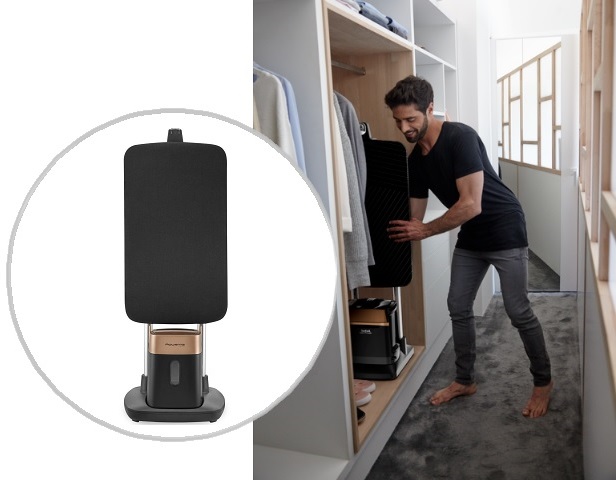 IXEO is equipped with an anti-calc cartridge system to increase its life span.
The lifetime of your cartridge depends on the number of ironing hours per week and the hardness of the water in your area.
On average, 1 IXEO cartridge gives about 8 months of ironing.
When the cartridge reaches the end of its life, a warning light appears on the product base.
You are then advised to change the cartridge in order to continue using your device in the best conditions.
Simply remove the tank from the device, replace the existing cartridge with the new one, put your tank full of water back in.
A priming phase of about 1 minute 30 minutes is then necessary.

For more details, see the "Anti-calc" section in the user manual.
To help you assemble your IXEO, simply follow this video:


Make sure that the 2 masts are correctly oriented first: