ROWENTA INSTANT SOFT COMPACT
INSTANT SOFT COMPACT
  AT THE 1ST SESSION VISIBLE RESULTS.* SEMI-DEFINITIVE DEPILATION FOR SMOOTHER SKIN FROM THE 1ST SESSION.  
Instant Soft Compact is a semi-definitive hair removal device featuring Intense Pulsed Light Technology. Its concentrated light beam and exclusive spacing roll provide visible results, for uniform and long-lasting hair removal at the first session*. With five distinct intensity levels adapted to various skin tones, it provides maximum safety thanks to a UV filter and skin-color and skin-contact detectors.
* External test May 2015 on 30 users
Référence : EP9601F0
Voir la description du produit
INNOVATION FOR SAFE, EFFECTIVE
AND LONG-LASTING DEPILATION
Instant Soft Compact is the smart, safe answer to semi-definitive hair removal using concentrated beams of light.
The pro-precision technology using the exclusive spacing roll ensures no area is missed and prevents flashing the same area twice, thereby greatly reducing the risk of burning. Further safety features include a skin-contact detector, which blocks the light pulse when the device is not in contact with the skin, and a smart skin-color detector, which blocks the light pulse when skin is too dark. With five different settings adapted to various shades of skin, three lamps boasting 75,000 flashes each* and compact dimensions, Instant Soft Compact is the epitome of innovative technology. The result is precise, effective depilation for smoother skin.
*depending on usage
* External test May 2015 on 30 users
Voir la description du produit
Technical specifications / comparison
›
| | |
| --- | --- |
| Phototype compatibility | I-IV |
| Skin color detector | |
| Skin contact sensor | |
| Integrated UV filter | |
| Repleacable lamp | |
| Continuous flash mode | |
| Punctual flash mode | |
| Voltage | 100-240 V |
Voir les questions les plus fréquentes
FAQ
The armpit is a delicate area to remove hair from, because its skin is thin and sensitive (it is common to see red spots in the area after hair removal) and not very accessible to the epilator head. Although it might be easy to guide the epilator on the leg surface, on the armpit it is much more difficult because this is a concave spot and it is sometimes necessary to press the epilator head against the skin for it to be effective. In the figures below, we show the appropriate movements to achieve armpit hair removal without any inconvenience. Please remember that the "sensitive areas" accessory which clips on to the epilator head should be used when removing hair from the armpits.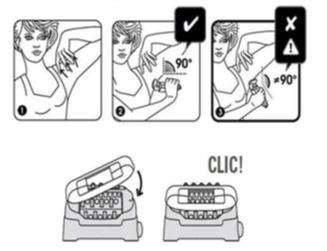 No. The appliance may not be used on the face.
After following the instructions in the user manual for starting the appliance, make sure that your electrical socket is working by plugging another appliance. If it still does not work, do not try to dismantle or repair the appliance yourself and take it to an approved repair centre.
Do not use your appliance. To avoid any danger, have it replaced by an approved repair centre.